Arts for the Soul Workshops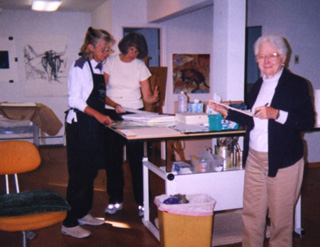 "Absolutely magical. I love the combination of learning with such wonderful instructors and being with nature."
—Mary Archer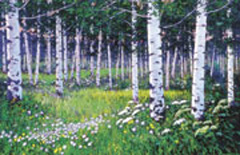 The Steamboat area provides the perfect locale for the plein air art experience. Richard Galusha, whose "Aspen Grove" painting is shown here, is one of the gifted instructors.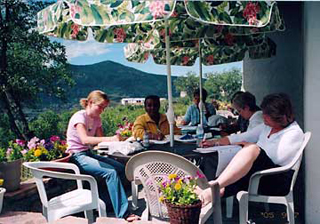 Classes take advantage of the beautiful weather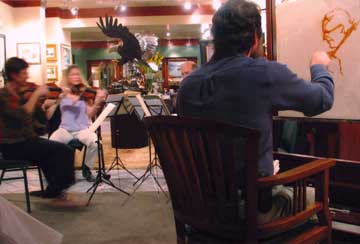 Instructor paints performers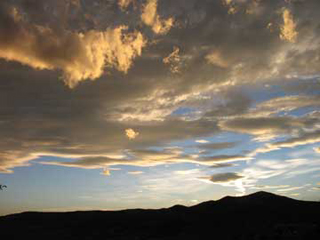 Dusk is always spectacular
The seminar offers eight different workshops from which you may choose one, with the chance to "stir the pot" of your creativity by indicating, if you so desire, two other sub-areas of interest in which you'd like to participate.
The workshops include:
Art
Oil painting, drawing and watercolor, in the studio or out in nature (the plein air experience)
Color, light, line, texture, volume, shape, movement, emotion, intellect…all of this, and only two dimensions. Our artist/instructors will help you explore your creativity with options in oil painting, drawing, and watercolor in the studio or out in nature.
Photography
Color and black and white photography
Classes in film and digital photography are held in some of the most spectacular and beautiful areas in Colorado.
Creative Writing
Fiction/non-fiction
Writing for children
Poetry
Journaling with nature as a doorway to your creativity and inner wisdom
Our creative writing instructors are professional artists and facilitators who allow you to write and review your own writings in a supportive, constructive and collaborative process.
Chamber Music
Chamber Music and private lessons for violin, viola, cello, piano and woodwinds, including recorder.
Music Composition
Our professional musicians will help you make that breakthrough you've long been seeking. They will often coach your ensembles from within. In the end it's about enjoying the genius of Mozart, Schubert and friends as you work your way through their magnificent quartets. In your ensembles, you will be matched with players of similar experience.
Voice and Vocal Ensemble
The chance to sing with your heart
This is an opportunity for participants to receive outstanding instruction in voice, at whatever level of experience, and be a part of a fun vocal ensemble directed by our enthusiastic staff.
Enthusiasm is the most important quality you can bring to
Arts for the Soul!