Jean Perry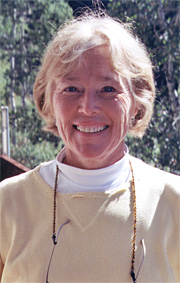 Jean started art classes at age 5 when her mother sent her to Saturday lessons at the Nelson Atkins Museum in Kansas City, MO. Summer classes continued until college where she majored in Fine Art at the University of Colorado. It was at this time that she began painting in an abstract, nonobjective style. Jean continued sporadic lessons through the early years of marriage and raising four children.
In 1980 Jean and her husband, Gil, moved to Steamboat Springs, Colorado, and she decided to make a full-time commitment to her love of art. Signing up for a local plein air workshop she discovered the joys of painting on location. "We painted every day even in a rain and sleet storm and I knew I had found my direction." Since that time Jean has continued her art education with classes at the Scottsdale Artists School and workshops with many instructors, including private lessons with Mark Daily in Denver.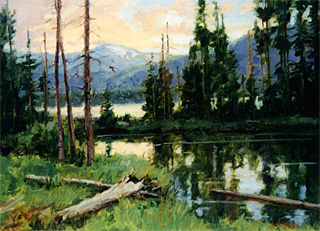 "Golden Sky" - Oil, 16"x20"
Jean has painted and travelled all over the world including Indonesia, Europe and Mexico. She is a signature member of the the Plein Air Painters of America, Oil Painters of America, Rocky Mountain Plein Air Painters and an honorary member of the Tuscon Plein Air Painters Society.
Her style of painting has evolved from abstract to a more traditional form of impressionism working mainly in oil. Landscapes seem to dominate her work but she enjoys painting animals, still lifes and portraits. Her paintings can be found in shows from New York to California including the Arts for the Parks Top 100, The Salmagundi Club in New York City, Laguna Art Museum, Clymer Museum in Washington and the Desert Caballeros Museum in Arizona.
Summer Studio
P.O. Box 881112
Steamboat Springs, CO 80488
(970) 879-6193
Winter Studio
7932 N. Portofino Circle
Tucson, AZ 85742
(520) 531-8717