John Sant'Ambrogio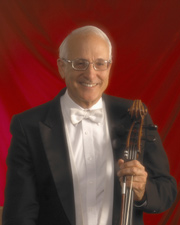 E-mail: jstambro@sbc.net
John Sant'Ambrogio has enjoyed an illustrious career as a cellist in top orchestras, chamber music ensembles and as a pedagogue for over five decades. Appointed Principal Cello of the Saint Louis Symphony Orchestra (SLSO) in 1968 after being a member of the Boston Symphony Orchestra for nine years, Mr. Sant'Ambrogio has served as Principal Cello of such orchestras as the Casals Festival (Puerto Rico), Grand Teton Music Festival (WY), Lancaster Festival (OH) and the Seventh Army Symphony (Europe). In 1987, he founded and was the first Artistic Director of Strings in the Mountains. His discography includes chamber music and orchestral recordings on the TELARC, RCA, IMG and VOX labels. Mr. Sant'Ambrogio studied with Leonard Rose, Paul Olevsky and Diran Alexanian and has passed on these pedagogies while on the faculties of Washington University, the St. Louis Conservatory and Boston University. His students have won jobs in major symphony orchestras including the Boston Symphony Orchestra, the Chicago Symphony and the Saint Louis Symphony Orchestra. Retiring from the SLSO in 2005, he moved to Steamboat Springs, CO to pursue his love of skiing, hiking, cycling and photography. Still a very active chamber musician and teacher, he founded the Generations Piano Trio in 2005 with violinist Dmitri Pogorelov and pianist Judith Lynn Stillman. Mr. Sant'Ambrogio continues to perform throughout the country with his trio and, to his delight, with his daughters Stephanie, violinist, and Sara, cellist.
Institutions Founded
Co-Director and Co-Founder of Red Fox Music Camp and Music Festival, New Marlboro, Mass. 1949-79.
Founder and Director of the Strings in the Mountains Music Festival, in Steamboat Springs , CO. 1987-92
Founder and Director of the St. Ambrose Chamber Orchestra, 1992 to present.
Founder and Director of Arts for the Soul, Seminar/Retreat in Steamboat Springs, CO. 2002 to present.
Professional Experience
St. Louis Symphony, Principal Cellist from 1968- 2005
Boston Symphony Orchestra, 1959-1968
Casals Festival Orchestra, Principal Cellist, 1969 & 1970
Grand Teton Music Festival, Jackson Hole, Wyoming, Principal Cellist 1980-1985
Elliot Piano Trio, 1992-2005
Giovanni String Quartet, 1972-1976
St. Louis String Quartet, 1968-2005
Boston Piano Trio, 1965-1968
Seventh Army Symphony, Principal Cellist, 1956-1958
Teaching Experience
Private cello instructor since 1959 to the present
Former pupils have won positions in major symphony orchestras including Boston Symphony, Chicago Symphony and the St. Louis Symphony.
St. Louis Conservatory, 1985-1989
Mountain Team Concepts Music Camp, Director and Founder, 1992-1996
Grand Teton Music Seminar, 1980-1985
Washington University, 1970-1974
Boston University, 1963-1965
Teachers
Leonard Rose, 1953-1955
Paul Olevsky, 1950-1952
Diran Alexanian, 1948-1950
Education
B.A. in Music Education from Lebanon Valley College, Anneville, PA; 1954
M.A. in Music from Ohio University, Athens, OH; 1968
Recordings
Clarinet Quintets of Mozart & Brahms on VOX label.
More than 20 recordings with the Saint Louis Symphony on TELARC, RCA, IMG and VOX.
Produced two recordings for Strings in the Mountains: The Eroica Trio and Giles Pap & The Country Mountain Boys.
Film
Was the originator of the film "Eroica" which was shown on PBS 400 times in December of 2003