Karen Gordon Schulman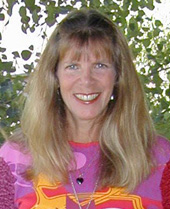 "It is a joy for me to photograph the earth's landscape, both above and beneath the sea. It is a fragile landscape and deserves my respect. For me, photography is a tool for self-discovery, whether I am making images in black and white, color, or adding paint, pencil and pastel to my black and white "canvases" in my hand painted work."
An award-winning photographic artist and teacher, Karen Gordon Schulman makes her home in Steamboat Springs, Colorado. Her love of capturing images on film goes back to her "Brownie Hawkeye" days on the east coast, where her father's love of photography became her inspiration. Her formal education includes a Bachelors degree from Penn State University and graduate work at Manhattanville College. Her fine art photography training was at UCLA and Otis Art Institute and she continues to study at various workshops in the United States and abroad. She uses a camera to capture the essence of a place as well as to learn to "see." Whether she is photographing the ancient abbeys of Ireland, underwater in the Caribbean or Pacific, or in her native Yampa Valley, she seeks to use the camera as a tool in the lifelong process of self-discovery.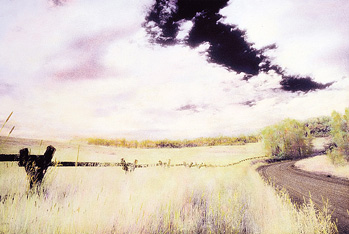 Alchemy...The Road West
In addition to her color work, Karen's hand painted black and white photographs and her recent Polaroid manipulations portray a surrealism in both her land and underwater images. For over 20 years, her fine art images have been in demand and are currently in many private and corporate collections, including those of Graham Nash and the Agfa Corporation. Both experienced and new collectors of photography across the country are demonstrating a continuing interest in Karen's work, as both appreciation and investment.
Each year, Karen offers a number of her original images as charitable contributions for fundraising events in the Steamboat Springs area, including Tread of Pioneers Museum, Horizons for the Handicapped, and the Yampa Valley Medical Center.
Prior to her move to Steamboat Springs in 1991, she lived in Los Angeles, California, where she founded Focus Adventures, a photographic workshop and photo tour business. As the owner of Focus Adventures, she travels extensively and leads regional and international photographic workshops and tours which emphasize photography as a tool for self-discovery. She has been honored to be chosen as the featured photo workshop company to be written up in the Insider's Report for the Writer's Digest book, Photographer's Market 2001 and the premier issue of Successful Photography Magazine, Spring 2003.
In Steamboat Springs, she is represented by the Wild Horse Gallery for her fine art photography. Her stock photography is represented by SuperStock, Index Stock Imagery and The Stock Broker. Karen's photographs appear in numerous publications, national ad campaigns and on various television programs. Karen writes a regular photo column for Marco Polo Magazine and is a regular contributor to Steamboat Magazine. She is the co-author of Steamboat Visions, the first ever photographic book dedicated to northwest Colorado. Karen is a fourteen-year member of the American Society of Media Photographers (ASMP).
Karen can be reached through Focus Adventures at www.focusadventures.com or by e-mail: karen@focusadventures.com.