Richard Galusha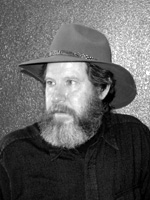 RICHARD GALUSHA grew up on his family's ranch in West Texas where he developed a love and understanding for horses, which he has expressed in his art from a very early age. When he was thirteen his family, consisting of nine brothers and sisters, moved to Boulder, CO.
After high school, he joined the Navy and traveled to the Far East, Australia, New Zealand, and the Pacific Islands. Richard had a studio in the barracks on the island of Guam and completed many drawings and paintings of island life, portraits of the sailors' sweet hearts and paintings of Navy aircraft. After the Navy, Richard completed his BFA in Art at the University of Colorado in Boulder Co. During the summer of 1990 he traveled to Africa for a safari hunt in Tanzania and Kenya where he studied and painted the wildlife, natives, and landscape. In the summer of 1996 he traveled to Greece with his wife, Shirley, and they painted a variety of subject matter on the islands of Mykonos and Santorini. The English countryside became their subject matter during the summer of 1997, and in 1998 they traveled back to Greece and painted for three weeks. In November of 1998 they painted and trekked in Nepal. In the spring of 1999 they traveled to Paris. In June of 2000 they traveled to paint in Botswana and Zimbabwe, Africa. November of 2000 brought a trip to the British Virgin Islands where they painted many paintings from the boat as well as on shore. They also traveled and painted on an extensive trip of Europe in June and July of 2001 which included, London, Paris, the French countryside, Swiss Alps,Venice, Assisi, Rome, Siena, Florence,Monte Carlo and Nice.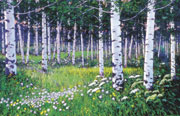 "Aspen Grove" by Richard Galusha
In 1995 Richard was awarded signature membership in the Oil Painters of America. During the summer of 1991, Richard received an individual fellowship grant from the National Endowment for the Arts and the Steamboat Springs Arts Council to study plein air painting in the Yucatan. He received another fellowship from the NEA and SSAC in 1994 to study with Richard Schmid and Thomas Buechner in Loveland, CO. He also has studied and painted with many other artists, including Zhang Wenxin, Clyde Aspevig, Harley Brown, Ned Jacob,Ted Goerschner, Ray Vinella, Bill Reece, David Leffel, Don Stone, Jim Norton, and Ron Riddick.
Richard's real love is painting in plein aire and portrait painting, as well as western genre. He enjoys painting landscape near his home in the Hahn's Peak/Steamboat Lake area and taking painting trips with his artist wife, Shirley Stocks, and their dog, Zorn, to various locations around the country. He has shown in many local, regional and national shows and his works are in private collections throughout the United States. His work can also be seen at G.C. Lucas Gallery in Indianapolis, IN. He and his wife own the Wild Horse Gallery of Steamboat Springs.
Education
Loveland Academy of Fine Arts, Loveland, CO. - Jackson Hole Art Academy,WY. - The Fechin Institute,Taos, NM. - Art Students League, New York,NY. - Scottsdale Artists School (summer), Steamboat Springs, CO. - Adams State College, Alamosa, CO. (Masters) - Rice University, Houston, Tx. - University of Colorado, Boulder, CO. (BFA) - University of Guam, Guam.
Recent Awards and Exhibits
Voted Best Artist in Steamboat Springs for 2002 and 2001, 1998 Realism in Contemporary Art of the American West, University of Wyoming Art Museum. - 1998, 1996, 1994, 1993, One Man Shows, Steamboat Springs Arts Council. - 1998, 1997, Spring and Fall Auctions,Texas Art Gallery, Dallas, TX. - 1997, One Man Show, G.C. Lucas Gallery, Indianapolis, IN. - 1996, 1995, 1994, 1993, 1992, Oil Painters of America National Shows, 1995 Award of Excellence. - 1995 Salmagundi Show, New York,NY. - 1995, Western Heritage Classic, Abilene, TX. - 1995, 1993 Western Spirit Art Show, Cheyenne, WY. - 1993, 1991, NEA/SSAC Fellowship Grant
More information